Digital signage usage in an education setting is becoming increasingly popular and when paired with DAKboard, it makes for a simple, feature-filled and cost effective solution. Continue reading to learn how DAKboard is a great fit for digital signage in Elementary, Middle and High schools and even on College campuses!
Keep Students and Faculty Informed
One of the challenges many schools face is communicating effectively with students and faculty. DAKboard serves as a simple digital signage tool to do this. Create exciting displays that attract attention and keep everyone informed with our pre-existing templates, or create your own custom screen from scratch. Add key information such as:
Calendars with school events
Important notices from Faculty and Administration
Daily info such as current period (automatic based on current time), odd/even day schedule and more!
Alerts and other critical information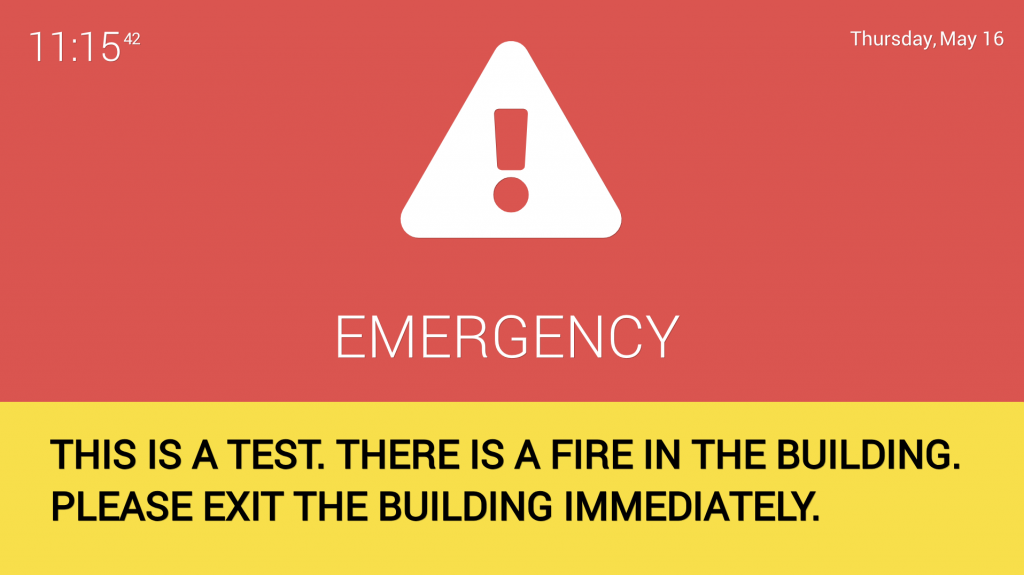 Save Time and Money on Printed Flyers and Posters
Printed materials take time and money to design and print and once finalized, cannot be changed. With a DAKboard as a digital signage solution for schools of all sizes, this is no longer an issue. All connected screens can be changed at any time with the tap of a screen or the click of a mouse. And our affordable plans are a fraction of the cost of large print jobs!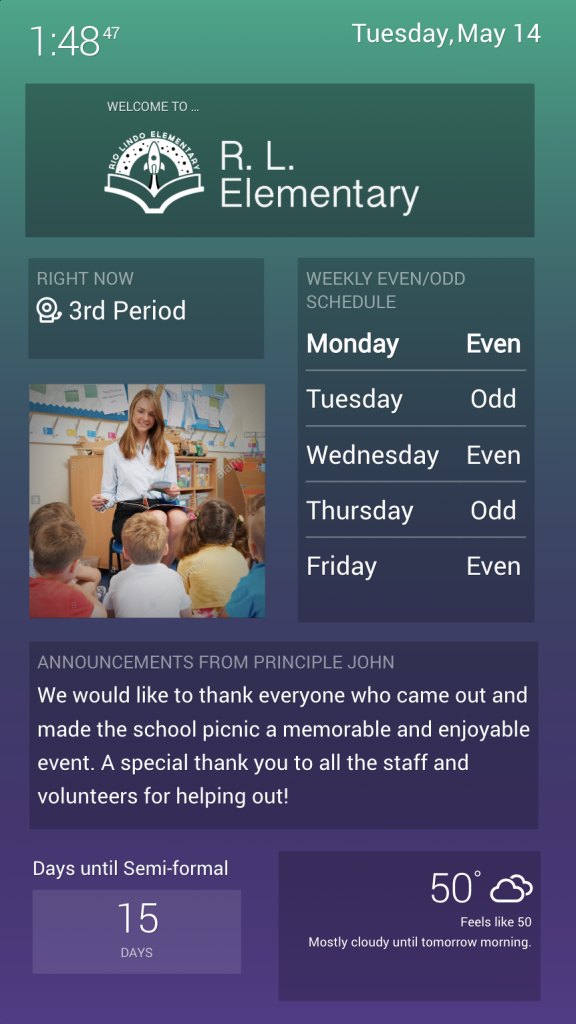 Promote School Spirit and Student Engagement
Another great usage for DAKboard is to showcase students and faculty around the school. Using our Custom Screen Editor, it's simple to create and update screens to highlight individuals. Connect to one of our many support photo sources such as Google Drive, Google Photos, Microsoft OneDrive and many more to create a slideshow of recent school events that everyone will enjoy reminiscing about!
Connect a digital calendar and use DAKboard to create an automatically updating lunch menu board. DAKboard works great with many online calendar sources such as Google Calendar, Microsoft Calendar and many others.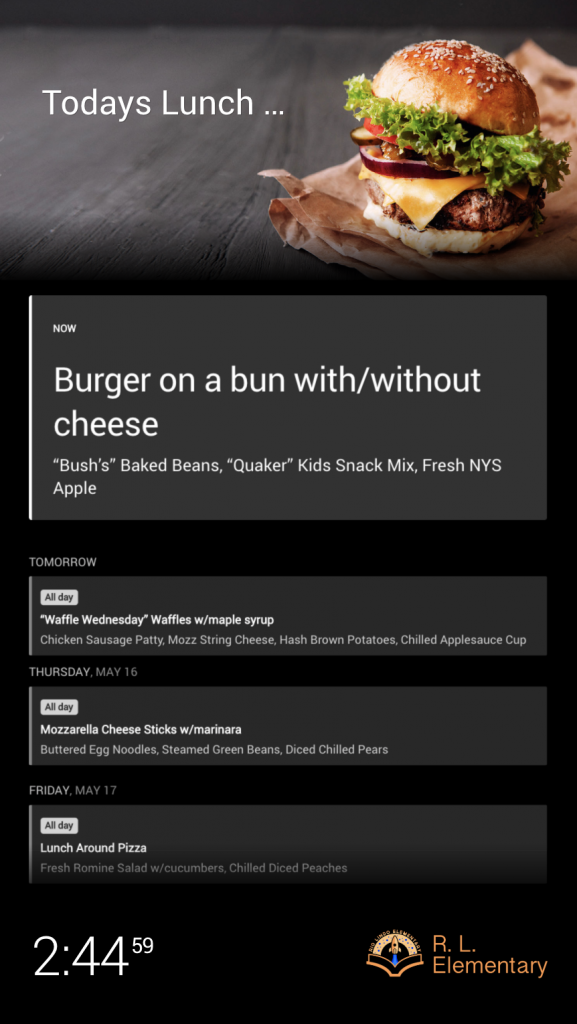 Simple Content Editing and User Administration
DAKboard has many tools in place to make creating and updating digital signage extremely simple. With our custom screen editor, it's as simple as arranging content blocks with a drag/drop editor.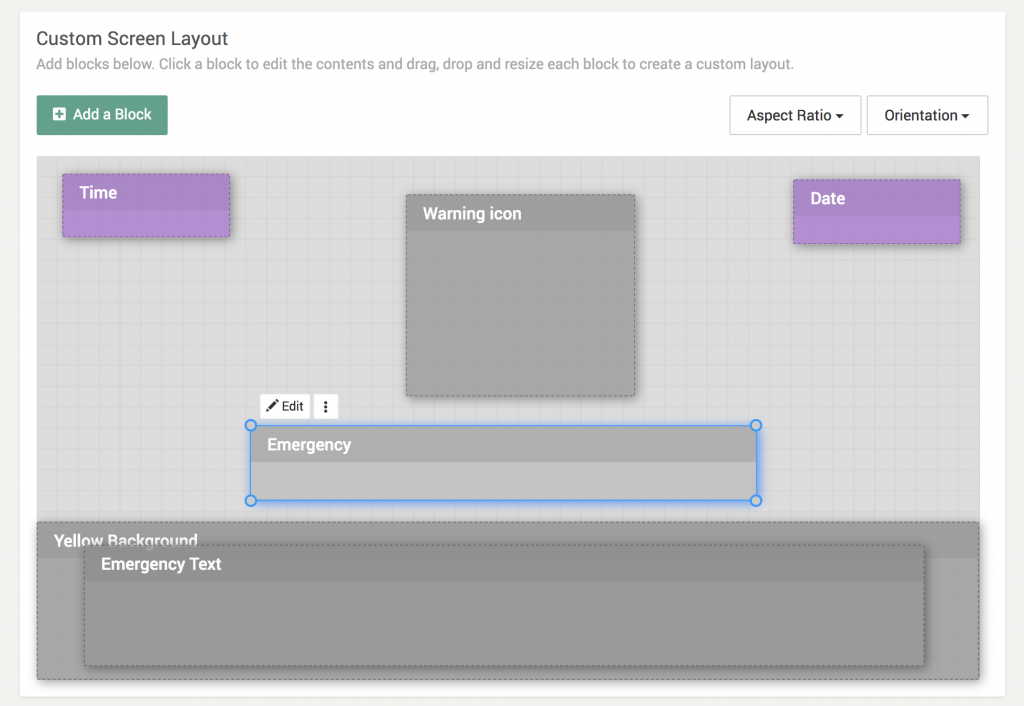 With our Pro plan, user administration is a breeze. Add additional staff accounts and assign them specific privileges. For example, only allow certain departments to edit certain screens.
Learn more about staff account permissions.
Managing the hardware displays is simple as well. Using our Wall Display, or DAKboard CPU, a screen can be assigned to a display with a click in the "My Displays" section of your DAKboard account. Easily update one, or all displays in bulk to show an alert or important message on all displays: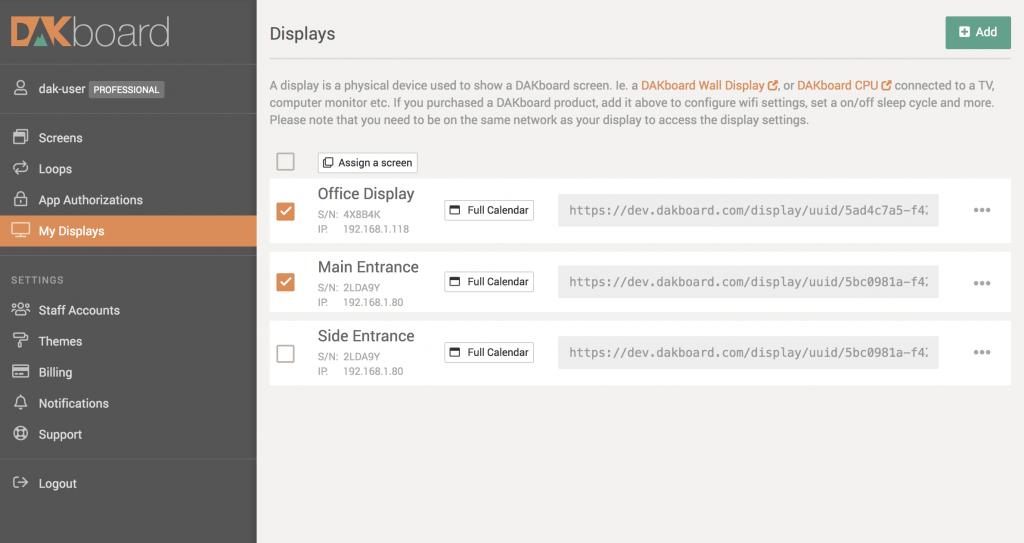 Lastly, create a loop and have your displays rotating through multiple screens. We have more information about loops in our blog post.
Thanks!
The entire DAKboard team thanks you for using and supporting DAKboard. We're committed to building the best product possible and we're excited to share that with you.
If you have any questions or feedback, we'd love to hear from you. Check out our support page for more information and we're always available at contact@dakboard.com.