Google Photos Added!
DAKboard now supports displaying photos from Google Photos! Open the DAKboard options, head to the photo section and select "Google" as the photo source. Click the Authorize button and then select an album to display photos from.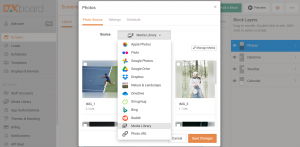 We're also looking for suggestions on what other photo sources you'd like to see. Let us know in the comments below!
Monthly Calendar View
By popular demand, we've added a monthly calendar view! In the DAKboard options, under the Calendar section, select "Monthly" for the Calendar Type setting.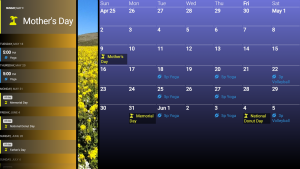 Other New Stuff
In addition to the Google Photos integration and monthly calendar view, we've added a few other smaller features:
Unique colors per calendar. In the calendar options, each calendar can now be given a unique color. This is a great way to distinguish what events are from which calendar!
Calendar validation. When adding a new calendar, DAKboard automatically validates the calendar to make sure it's accessible.
Thanks!
Thanks for using DAKboard! And don't forget, we have our Wall Display available in the shop! As always, feel free to contact us with any problems, comments or suggestions!