Business organization and presentation are key to business success. They're two of the top common links between the biggest and most profitable businesses, which include companies like Target, Coca-Cola, FedEx, and American Express. Researchers found that their success is due to their culture of being customer-focused and to their organizational capabilities, both supporting critical business objectives. There are many ways to go about setting your business on the right track, but one of the simplest and most efficient ways is through the adoption of DAKboard.

DAKboard is a customizable and dynamic display that you can use in your business. It can present anything from your team calendar, news headlines, the weather, and so much more. It even creates a positive impact for your business when clients step into your office and see how well managed your business is. Moreover, DAKboard helps you keep your business well-presented and organized by providing the following features:
A Digital Office Directory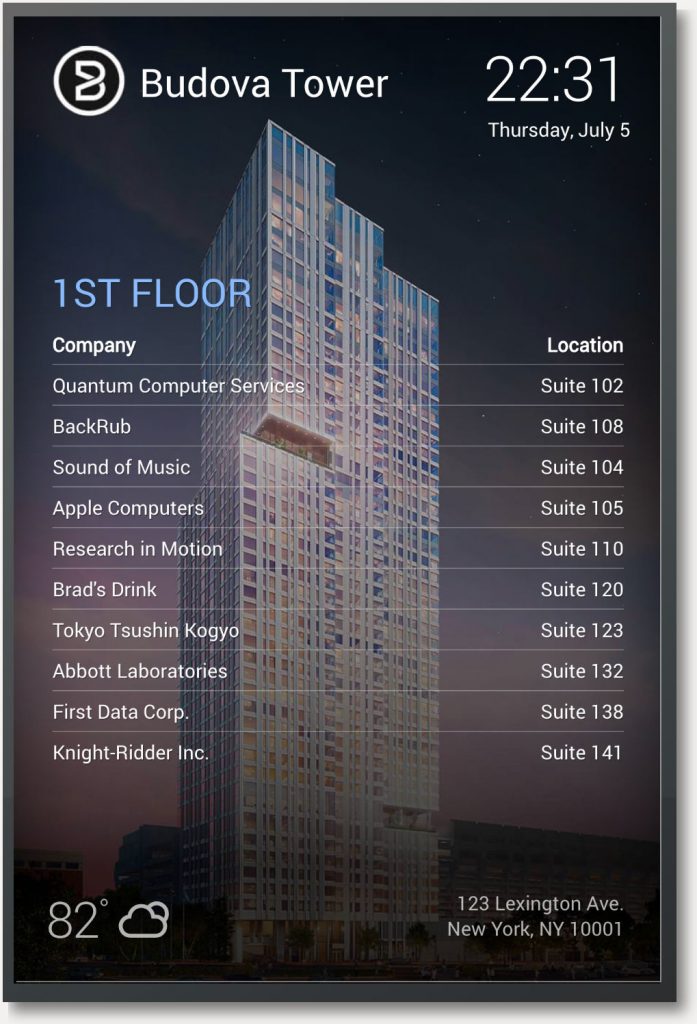 Lots of office buildings can become a maze of different smaller offices. In some cases, it takes considerable time for clients to figure out where they're supposed to go. DAKboard lets you create a digital building directory or an office directory. This eliminates the need for people to ask receptionists and other staff members to direct them the right way – a neat feature, especially during a pandemic. DAKboard allows you to add specific details including names, contact information, and directions to all the registered offices. You can even add a thoughtful touch by including the time and weather in your digital directory.
An Artistic Picture Frame
Drab offices can provide the wrong impression; after all, you want a strong and positive brand image. This is why you need to invest in design and branding, as well as incorporating them to spruce up your office space. Get a professional designer with plenty of branding experience to create your initial collaterals. And then you can showcase them on DAKboard, by using it as a digital picture frame. You can connect your preferred photo-sharing service like Instagram, Dropbox, Google Photos, and Flickr straight to your office DAKboard. With DAKboard, you won't need to contend with SD cards or complicated file management systems. All you need to do is choose photos that represent your business culture and the spirit of your team.
Streamlining Office Processes
Beyond the displays, DAKboard also has functionalities that help improve productivity. One such tool is staff accounts where you can set up user accounts for each team member with respective permissions. For one, you can grant designers direct access to the screens to update themes and branding in just a matter of seconds, or you can grant billing access to the accounting department. You can also give admin staff access to all the DAKboard content so it's easier for you to delegate organizational tasks.
Digital Asset Security
Since COVID pushed businesses online, there's been a surge of cyber attacks. This makes your digital files vulnerable. One way that businesses can counteract the threats is through hiring a cybersecurity professional and improving online software security. You need a well-trained cybersecurity professional, first and foremost – and due to the sheer demand, many of these professionals have graduated through online programs in the last 12 months to meet the demand. Students graduating with online cybersecurity degrees, in particular, have a strong foundation in networks and security, virtualization and cloud security, and digital forensics. They're experienced in real-world cybersecurity scenarios through their virtual labs, too. These professionals have become essential in most businesses today. You can boost your business' cybersecurity capability even further – on an individual employee level – by using DAKboard's Google Single Sign-On authentication tool. This makes password management more secure and less risky. Having an expert on-hand and using secure functions ensures that you're covering all your bases.
A Team Calendar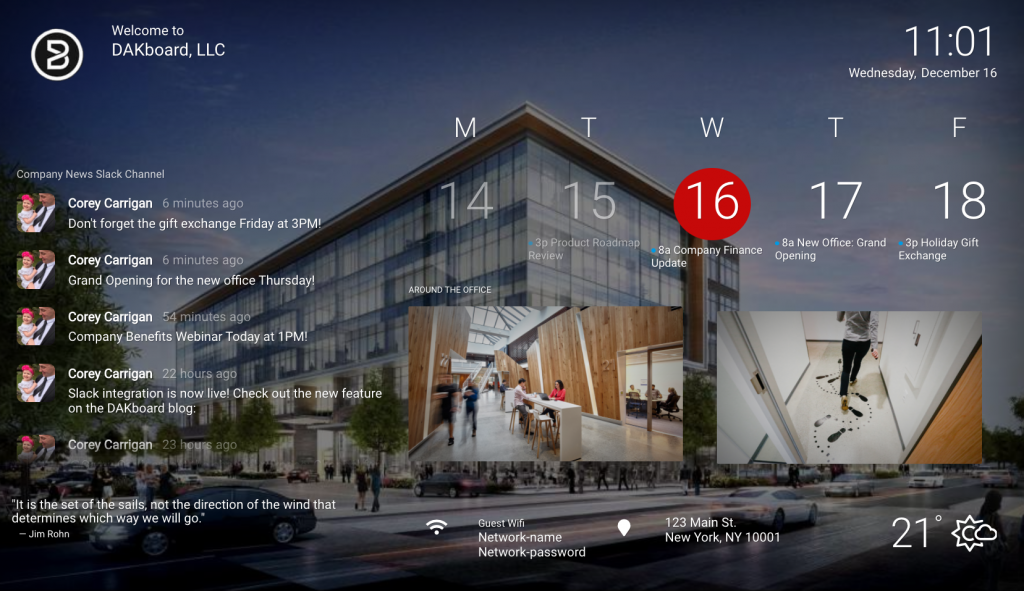 As more and more companies are adopting hybrid work arrangements, scheduling meetings, activities, and conferences can become challenging. With DAKboard, you can immediately see the complete picture of your team's activities. It works seamlessly with many virtual office platforms such as Outlook for Office365 and Google Suite. You can even integrate Apple and Google calendars into it. Everyone in your business can just refer to DAKboard to avoid scheduling conflicts and to optimize how you use the conference room.

DAKboard is both a presentation and organizational solution. It can be used to help improve your business' brand image and enhance your day-to-day workflow.