When it is desirable to have a block that displays the exact same content on more than one Custom Screen, and be able to edit that block in only one place, DAKboard now has a "Linked Blocks" feature available for this purpose! This feature will make it much easier to manage larger signage installations. Excitingly, it also provides a way to make a kind of "Template" block!
For example, a school may use multiple DAKboards placed at various locations throughout the building. On many of them, they may wish to display the same school calendar. Using the Linked Blocks feature, this calendar block may be edited once, and it will automatically propagate to all Screens that need to show it!
Any standard block may be converted into a Linked Block by turning on the checkmark at the bottom of its Formatting tab:
After which, it may be added to any other Custom Screen by clicking Add a Block, navigating to the "Linked Block" category, and selecting the desired Linked Block.
With this setup, every instance of this Linked Block will then change whenever any one of them is edited!
A bonus benefit of this feature is that it may be used to create "Template" blocks by toggling a block to be "Linked Block", then adding it to a Screen, and subsequently un-checking the "Linked Block" setting on it to convert it to a standard block. Doing so, the block will now quickly have all the configurations from the Linked Block, but may be edited separately from it!
For more detailed information regarding the Linked Blocks feature, please visit our support article.
Tag Management Improvements
In the Screens, and Media Library pages, the tagging feature now offers the ability to rename or delete tags that have been added by clicking on the "More Actions" three-dots next to it.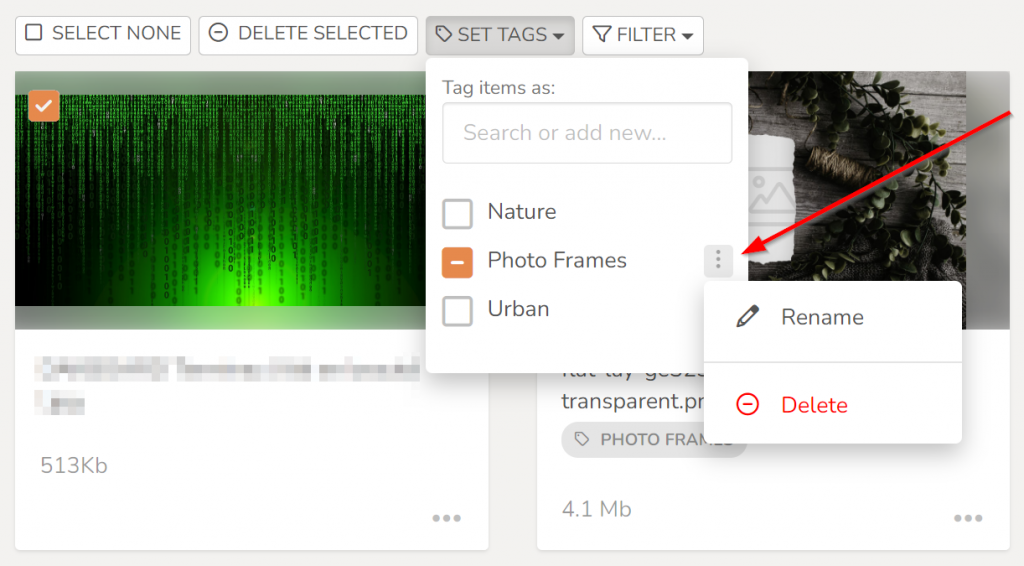 Thanks!
We hope you find this functionality in DAKboard useful. As always, feel free to comment below, or contact us through our support site with any questions or feedback.